Yuvashree Prakalpa | Yuvashree Prakalpa 2023 | Yuvashree Scheme | Yuvashree Prakalpa Apply| Yuvashree Prakalpa Apply Online | Yuvashree Prakalpa Details
The Chief Minister of West Bengal, Hon'ble Mamata Banerjee launched the Yuvashree Prakalpa to make the unemployed more self-reliant. Many people have benefited through these Prakalpa and this time also launched a new scheme for unemployed youth. Financial assistance is earmarked through this scheme so that the enrolled youth can improve their skills through proper training and continue their education. The level of unemployed youth is increasing in the whole country. Unemployed youth from any district of the state can apply for this scheme. So let's know about this scheme in detail.
Stay connected with our website to know various scholarship and job recruitment information. Apart from this, you must join our Telegram channel and you will get all kinds of updates there
Yuvashree Prakalpa 2023
The West Bengal government has taken an important step for the unemployed youth and launched a new scheme called Yuvashree Prakalpa. The Employment Bank was created by the State Employment Exchange through IT support and from there the "Yub-Utsah Scheme" or "Yuvashree Scheme" was started in October 2013 for job seekers.
Through this, the West Bengal government will help the unemployed youth financially. This allowance will be given to 1 lakh unemployed youth in the state every year. Hon'ble Chief Minister of West Bengal inaugurated the "Yuvashree Prakalpa" at Netaji Indoor Stadium for the unemployed youth and on the same day financial assistance of Rs.1500 was given to the Indian youth. At first, it was called the 'যুব উৎসাহ প্রকল্প'. Later, through a notification on 18th September, its name was changed to 'যুবশ্রী প্রকল্প' (Yuvashree Prakalpa). Thereafter financial assistance was provided to the beneficiaries of this scheme from 1st October 2013.
QUICK HIGHLIGHT
Scheme Name
Yuvashree Prakalpa
Provide By
West Bengal government
Benefits
Unemployed youth
Scheme Amount
Rs 1500 Per Month
Application Mode
Online
Official Website
employmentbankwb.gov.in
Object Of Yuvashree Prakalpa
The main objective of the Yuvashree Prakalpa is to provide financial assistance to unemployed youth for employment. Yuvashree Prakalpa 2023 is a scheme under an initiative of the Government of West Bengal launched keeping in mind the unemployed, job-seeking, and unemployed youth of the society.
ALSO, READ:-Narayan Bhandar Scheme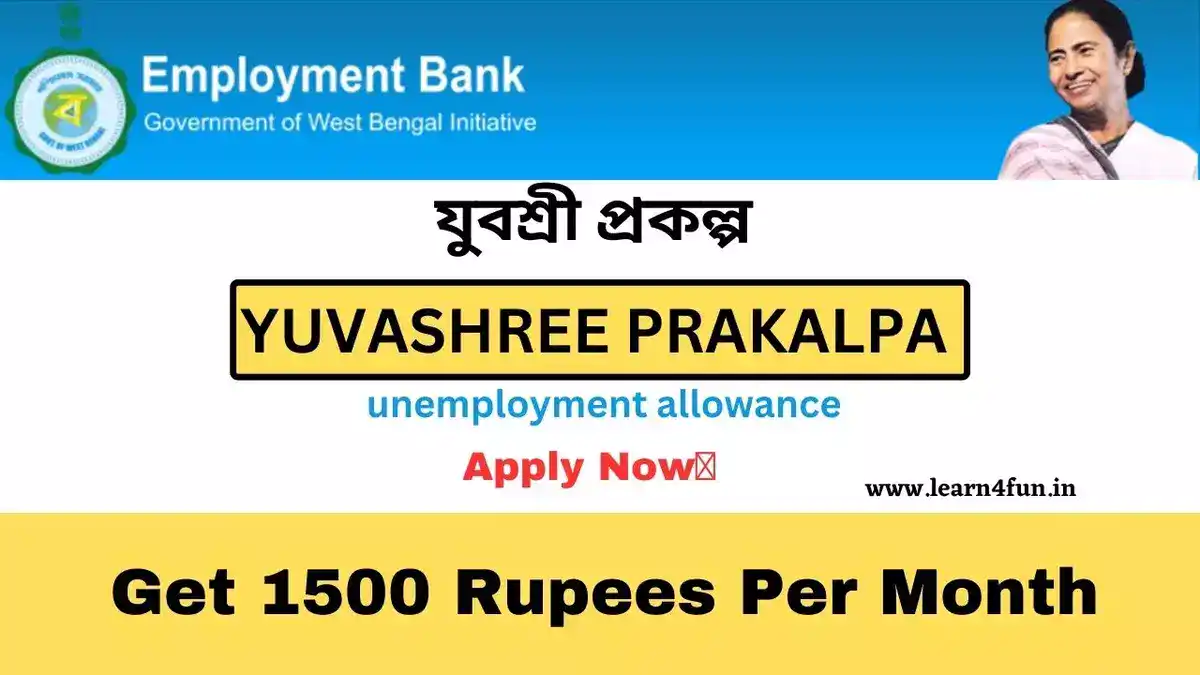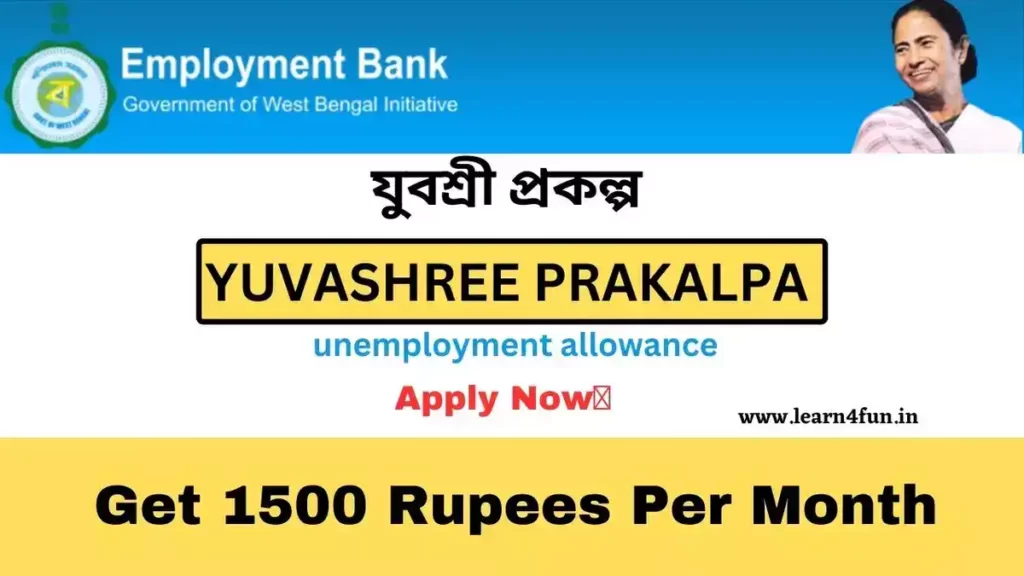 Yuvasree Prakalpa: Age Limit
If you want to apply for this scheme you should be between 18 to 35 years of age.
ALSO, READ- West Bengal Kanyashree Prakalpa
Yuvasree Prakalpa: Amount
A monthly allowance of Rs 1500 will be given for this Prakalpa.
Yuvashree Prakalpa Benefits
Through the Yuvashree project, the government has created employment among the youth and their economic growth:-
Unemployed or unemployed youths will get a monthly allowance of 1500 rupees.

Yuvashree Prakalpa

will create employment opportunities for unemployed youth which will lead to their economic growth by providing financial support to start their businesses.

Employed or unemployed youth can start their own business with financial support and become financially independent through this project.
Join Our Telegram Channel For More Updates
Yuvashree Prakalpa: Eligibility Criteria
The following eligibility criteria for applying for the scheme are discussed below:-
The applicant should be unemployed and a permanent resident of West Bengal.

The applicant's age should be between 18-35 years.

The applicant should not be connected with Central or State Government grants financial assistance or loans of any kind.

Applicant must have passed at least 8th standard.

If the applicant is registered in Employment Bank and i. Having TI or such technical education will get preference in this scheme.

One member per family will get this grant.
ALSO, READ-Bangla Awas Yojana
Yuvashree Prakalpa: Documents
Documents required for application in this scheme are-
A passport-size photograph of you

Proof of your educational qualification

Admit Card of your Madhyamik

Proof of affiliation with your current studies or training

Your Aadhaar Card or Voter Card
ALSO, READ-Medhashree Scholarship
Yuvasree Prakalpa 2023: Apply Online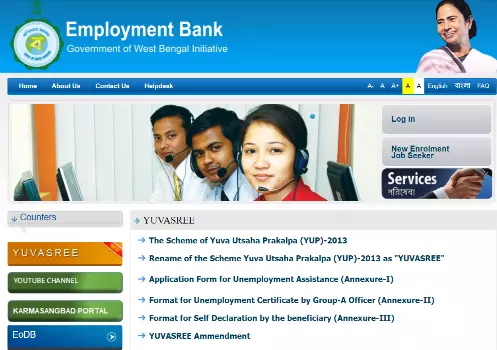 If you want to apply for this scheme then you have to apply through the official website

You have to register by going to the official website of this project.

Then click on the

'New Enrollment Job Seeker'

option there. Then click on the

'Accept' and 'Continue'

options.

Then an online application form will appear in front of you where you have to fill the form with all the information.

You need to scan a passport-size photograph and your signature and upload it in the specified space of the form.

Finally, you have to click on the

'Submit'

option. Then take a printout of this application form and keep it with you.
Video Tutorial
Download PDF Form
| | |
| --- | --- |
| Application Form for Unemployment Assistance (Annexure-I) | Download PDF |
| Format for Unemployment Certificate by Group-A Officer (Annexure-II) | Download PDF |
| Format for Self-Declaration by the beneficiary (Annexure-III) | Download PDF |
How will the grant be awarded?
The money will be deposited directly into the bank account of those who are eligible for this scheme allowance. So the applicant has to create a registered bank account at the time of applying for this scheme. and submit its details. So check out how to apply for Yuvashree Prakalpa.
ALSO, READ- West Bengal Scholarships
How to get the Yuvashree

Prakalpa

allowance?
Applicants whose names appear in the Yuvashri Project list will be notified through their phone number or email ID given to them.
First, one lakh candidates will be notified but they need to remember that they need to have a government bank account to get this unemployment allowance as the unemployment allowance amount of the Yuvashree Scheme will be directly transferred to this account. remains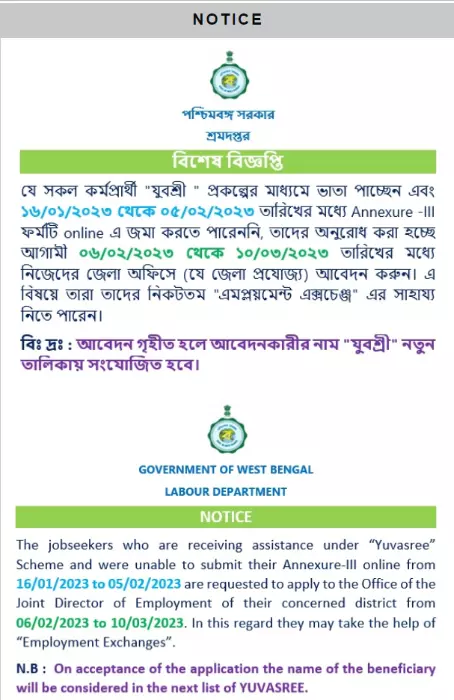 Contact Details
Central Management Cell
Employment Bank
67 Bentinck Street (4th Floor),
Kolkata -700069
e-mail – employment_b[email protected], [email protected] (for Employers only)
Contact No – 033-22376300
[During Office Hours, and Excluding Holidays]
ALSO, READ:-Karma Sathi Prakalpa
Important Links
FAQs –
Q. What is the age limit for applying to Yuvashree Prakalpa 2023?
ANS-18 To 35 Year
Q. How to apply for Yuvasree Prakalpa 2023?
ANS- Through online. (Read the full article to know the details)
Q. What is the eligibility for applying to Yuvashree Prakalpa 2023?
ANS- Should be associated with studies or any national training. (Read the full article to know the details)
Hello friends I am an Engineering student. At one time I was looking for a scholarship. And right now I provide information about scholarships for all of India. By my website