Karma Sathi Prakalpa (কর্মসাথী প্রকল্প 2023):-The West Bengal Government considers it necessary to support young and enthusiastic entrepreneurs in both rural and urban areas of the state. The West Bengal Government has taken significant initiatives through the West Bengal Karma Sathi Prakalpa 2023 scheme to increase the employability of committed youth and make them self-reliant.
Stay connected with our website for information on various scholarships and job recruitment information. Apart from this, you must join our Telegram channel and you will get all kinds of updates there
Karma Sathi Prakalpa 2023
The Mamata government of Bengal, given the increasing level of unemployment in the state and the widespread frustration among the youth, launched a very welfare and ambitious scheme i.e. WB Karma Sathi Prakalpa 2023. which not only employs the unemployed. of the state. There will be different options. They are paid, but at the same time, they have to pay Rs. 2,0000 for the self-employment roster to be self-sufficient.
NOTE-So friends if you like reading the article then definitely share it with your friends so that the information about this scholarship reaches more and more people.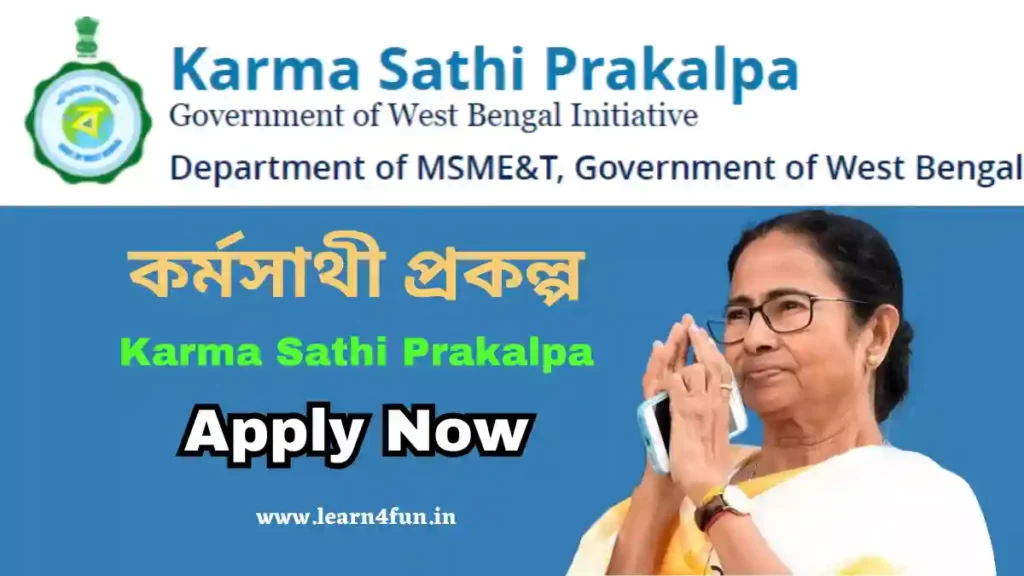 QUICK HIGHLIGHT
| | |
| --- | --- |
| Scheme Name | WB Karma Sathi Prakalpa |
| Provide By | The Mamata government of Bengal |
| Beneficiaries | Young and enthusiastic entrepreneurs |
| Year | 2023-24 |
| Application Mode | Offline/Online |
| Payment Mode | DBT |
| Amount | Rs 2,00,000 (Loan) |
| Official Website | Click Here |
Object Of Karma Sathi Prakalpa
To put an end to the unemployment problem in Bengal,
To provide new and valuable employment opportunities to the youth of the state,
Rs 2,00,000 for providing loans for setting up self-employment,
Socio-economic development of all unemployed youth, and the development of their bright future.
Download Offline Application Form (Annexure-I)
Karma Sathi Scheme Benefits
Under this welfare plan, many kinds of benefits and features will be provided to all our youths, which are as follows:
Under this welfare scheme, it will put an end to the problem of rampant unemployment among the youth of the state.
All the youth of Pandit Bengal will be encouraged to establish self-employment,
A total loan of Rs. 2,00,000/- will be given to all educated youth of the state to establish self-employment.
At the same time, we inform you that a total of 100,000 youth in the state will benefit from this welfare scheme.
A total budget of Rs. 500 crores has been released for the successful and meaningful implementation of this scheme so that all the youth of the state can benefit from this scheme etc.
With all the above points, we have told you in detail about the benefits and features so that you can get the benefits of this scheme by applying as soon as possible.
Join Our Telegram Channel For More Updates
Eligibility To Apply For Karma Sathi Scheme
To apply for this scheme, all applicants in the state must meet certain requirements, which are as follows:
The young person must have Passed from class 10 to class 12.
Age: Must be between 18 and 50 years of age.
All documents required for application under this scheme etc. must be filled.
Documents
Passport size photograph,
Applicant's Aadhaar card,
Voter identification card,
Ration card,
Basic proof of address,
Current mobile number and email ID,
Government subsidy for Karma Sathi scheme
Two types of government subsidies are available under this scheme
Project Subsidy: 15% of the project cost (maximum Rs. 25,000)
Interest subsidy: 50% (in case of timely payment) or 40% (in all other cases) of the annual interest paid to the cooperative bank. Maximum 3 years per case.
Karma Sathi Prakalpa Application Method
Hi, Entrepreneurs can apply through online registration on the Karma Sathi portal and offline application form (Annexure-I). Application forms are available free of charge at the following offices:
In the case of rural areas, the BDO office of the applicant's block.
SDO office of the applicant in the case area outside Municipal or Kolkata Municipal Corporation.
Kolkata Municipal Corporation in the case of Kolkata Municipal Corporation.
MSME Facilitation Center (MFC) of the District Industries Center (DIC) of the district.
Important Links
Hello friends I am an Engineering student. At one time I was looking for a scholarship. And right now I provide information about scholarships for all of India. By my website