GyanDhan is a digital-first company that seeks to revolutionize education financing in India. They have launched a scholarship program called the GyanDhan Scholarship. This Scholarship is only for students who want to study for their post-graduation degree outside India. Students will get a one-time benefit from GyanDhan Postgraduate Scholarship. The application process is completely done through the scholarship's official website, the steps to apply are discussed below, please take a look. 
What Is Gyandhan Scholarship?
The Gyandhan Scholarship pays the scholarship amount to one student only. Those pursuing Master's degrees in countries outside India like the US, Canada, UK, Australia, Ireland, New Zealand & Germany. etc. will benefit from Gyandhan Scholarship 2023. Students get the scholarship amount directly into their bank account before the start of the academic season. Students are selected on a merit basis.
Object Of Gyandhan Scholarship
The main purpose of the scholarship is to provide Rs 1 Lakh to students who are studying abroad for a master's degree.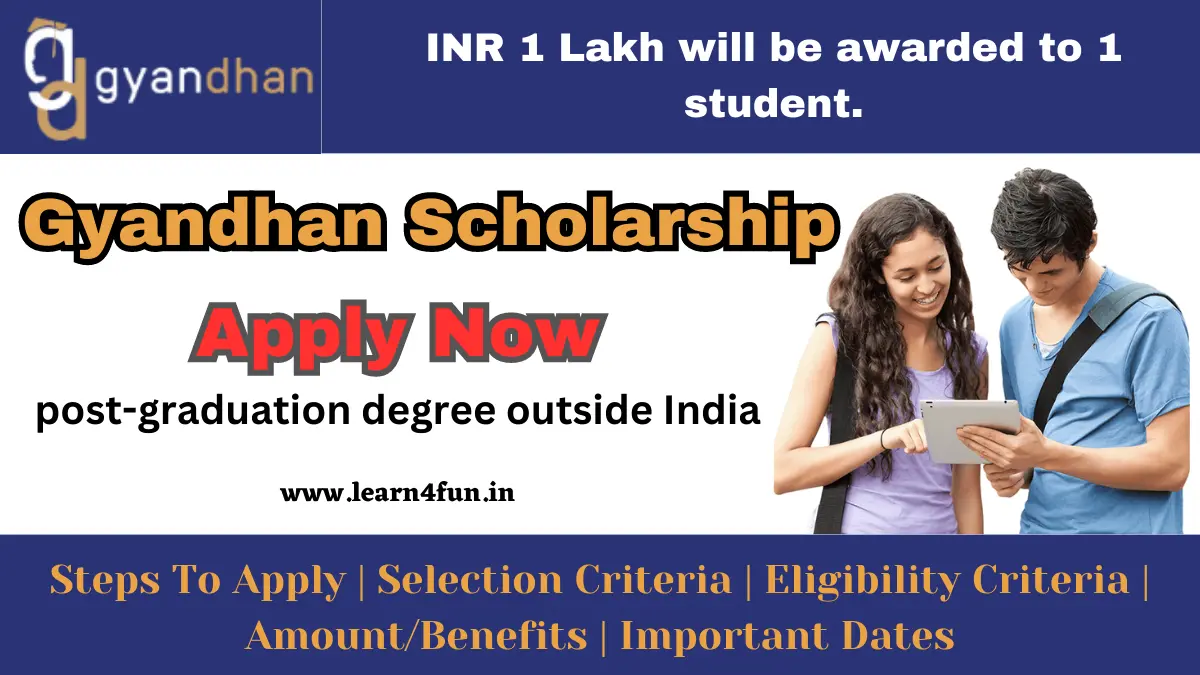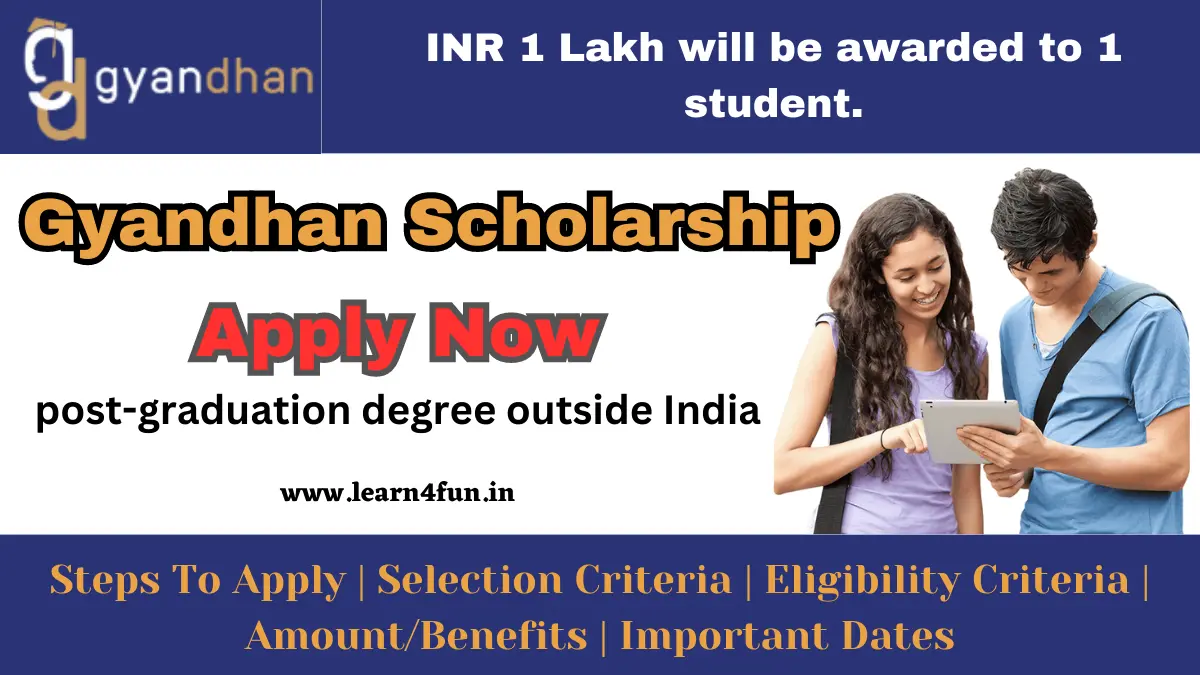 QUICK HIGHLIGHT
| | |
| --- | --- |
| Scholarship Name  | Gyandhan Scholarship |
| Provide By | Gyandhan |
| Beneficiaries | Student wants to complete Master's degree abroad |
| Year | 2023-24 |
| Application Mode | Online |
| Mode of Payment | Dbt |
| Amount | 1 Lakh [One Time] |
| Official Website | Click Here |
About GyanDhan 
Started with the aim of making higher education more accessible to students, Gyandhan has helped tens of thousands of students in selecting the right financing option. In continuation of our efforts toward our aim, we are launching the GyanDhan Scholarship 2023. GyanDhan scholarship for postgraduate studies abroad. This scholarship of INR 1 Lakh will be awarded to 1 student. 
ALSO, READ- Atul Maheshwari Scholarship
GyanDhan Scholarship: Amount/Benefits
All students want to study abroad but not all of them can do it. Family circumstances forced them to back off from these dreams. That's why GyanDhan Scholarship offers a scholarship of Rs 1 lakh to students who wish to pursue a Master's degree abroad.
GyanDhan Scholarship 2023: Important Dates
The last date to apply for the scholarship is 31st August 2023.
GyanDhan Scholarship: Eligibility Criteria 
The eligibility criteria to be followed to apply are listed below:-
The student must be an Indian resident with an undergrad degree from an Indian institute.

Students who want to pursue a 2-year postgraduate course in the US, Canada, UK, Australia, Ireland, New Zealand & Germany. 

Students who are in the process of applying or have applied but have not yet received an admission letter can also apply for the scholarship.

If the student is planning to take an education loan, the application for the same must start via Gyandhan in one of the partner lenders. Our partner lenders are 

SBI, 

BOB, 

Axis Bank, 

ICICI Bank, 

Avanse, 

Auxilo, 

Incred, 

Credila & Prodigy Finance.
ALSO, READ-MYSY Scholarship
GyanDhan Scholarship: Documents 
Important documents are given below, please have a look:-
Offer letter from the university

Proof of TOEFL/ IELTS Score

Proof of GRE/GMAT Score

Latest Resume

Statement of Purpose in 1500 words

Letter of recommendation (optional)
GyanDhan Postgraduate Scholarship: Selection Criteria 
The selection procedure by the scholarship authority is given below:-
The scholarship funds will be awarded to the best and brightest students. The selection of the same will also be rigorous and the candidates will be judged on their –
Academic Performance

Test Scores of GRE/GMAT/TOEFL

Statement of Purpose and Letter of Recommendation

Strength of the Profile Submitted
A selection committee will be formed to analyze the applications submitted, which will recommend the deserving students based on the above-mentioned criteria.
ALSO, READ-JSW Udaan Scholarship
Steps To Apply For GyanDhan Scholarship
To apply, first, go to the official website of the GyanDhan Scholarship

Then the scholarship home page will open in front of you

On that homepage, you will see an option called "Start Application".


Click on the Start application

Please fill up the following

Name

Email Id

Mobile

Target Country

Target College

Target Course

Within 24 hours of completing the first step, you will get an email to upload the documents
ALSO, READ- Kalpana Chawla Scholarship
Scholarship Winners of GyanDhan Scholarship
Winner 2022-Garima Sohi
Winner 2021- Sreyash Ratna Tripathi
ALSO, READ-AICTE Pragati Scholarship
Contact Details 
Important Links
Hello friends I am an Engineering student. At one time I was looking for a scholarship. And right now I provide information about scholarships for all of India. By my website