Byjus is India's largest online learning platform.  Byjus presents the Byjus IAS Scholarship Test for students appearing for Civil Services Examination.  Millions of youngsters in India dream of becoming IAS officers.  It is considered as one of the most respected professions in India.  But not all can clear this exam due to one's financial status and one cannot do it due to improper guidance.  Byjus specially launched this Byju's IAS test to show the right direction of the exam.  It will point you in the right direction and give you the strength to crack your weaknesses.
Stay connected with our website for information on various scholarships and job recruitment information. Apart from this, you must join our Telegram channel and you will get all kinds of updates there
Byjus IAS Scholarship Test 2023
Students have to crack the UPSC exam to become IAS. Byjus IAS Scholarship Test 2023 helps to prepare for this exam.  Which is a program run by Byjus.  So, not all students can fulfill their dreams in the Byjus IAS test, but some of them will play a special role in this scholarship test.  Only 700 to 800 candidates are selected out of around 3.5 lakh applicants who appear for Byju's IAS Scholarship Test.  Students can take service exams on various subjects including General Studies, Current Affairs, History, Geography, Economics, and Politics.  Students can easily check the marks scored in this scholarship exam on the official website of the scholarship.  And all the application process to appear for the exam is completed on the official website of the Scholarship Test.
NOTE-So friends if you like reading the article then definitely share it with your friends so that the information about this scholarship reaches more and more people.
Object Of Byjus IAS Scholarship Test
The main objective behind the Byjus ias scholarship test 2023 is to provide financial assistance to students. Clearing the biggest exam in India like UPSC. Byjus provides the most experienced teachers to pass their students guiding them throughout the entire process.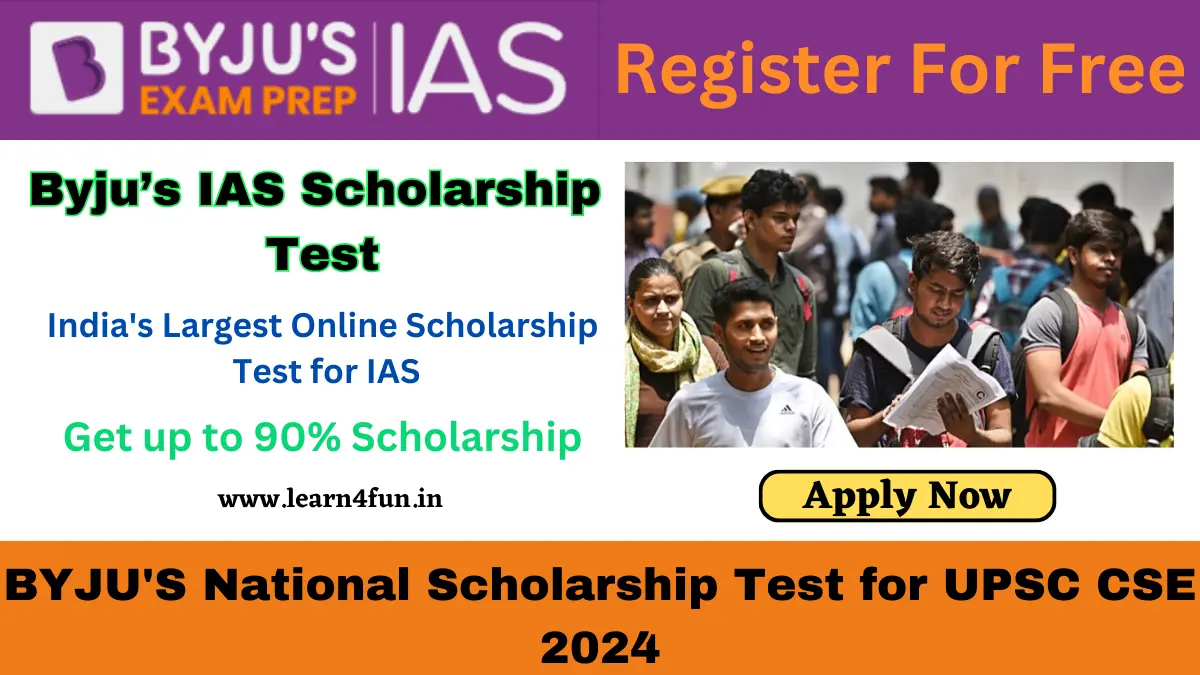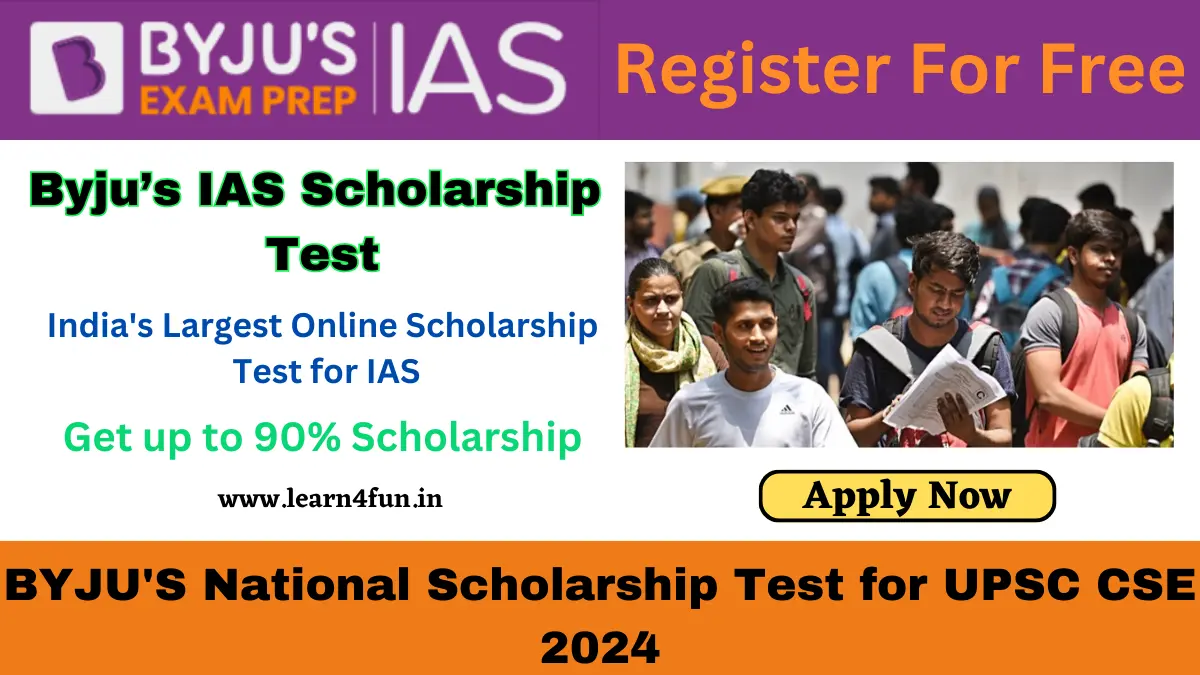 QUICK HIGHLIGHT
| | |
| --- | --- |
| Scholarship Name  | Byjus IAS Scholarship Test |
| Provide By | Byjus Pvt Ltd. |
| Beneficiaries | UPSC Aspirants |
| Year | 2023-2024 |
| Application Mode | Online |
| Objective | To offer an opportunity to aspiring students for IAS |
| Amount | Financial Assistance  |
| Official Website | https://byjus.com/ |
Byjus IAS Scholarship Test 2023:Important Dates
Scholarship Last Date

 2 Jul, 2023 – 6:00 AM

Scholarship Exam Date

 2 Jul 2023 – (Time 11 am 2 Hours)

Result Date
 

5 Jul, 2023 – 12:00 PM
Byju's IAS Scholarship Test: Scholarship Benefits
Experienced teachers from India will prepare the students for their entry under proper guidance.  

Students can get a complete exam guide for the civil services exam. 

Students can get their question-and-answer solutions for the UPSC exam.  

Students can compare their performance with other students of all Indian levels.  

Students can identify their preparation weaknesses and needs.  

Applicants will be able to understand the complete procedure specification and format of the UPSC Civil Services Exam through this test.
ALSO, READ-Pathani Samanta Scholarship
Byjus IAS Scholarship Test: Eligibility Criteria 
Applicants must follow the Eligibility Criteria below to complete the scheme application process:-
Applicants must be preparing for IAS Exam. 

Applicants must be a permanent resident of India.
Byjus IAS Scholarship Test: Registration Fees
BNST-IAS is free and open to all aspirants.
BNST-IAS Test: Exam Pattern
Total Duration of Test: 2 hours
Total Number of Questions: 100
| | | |
| --- | --- | --- |
| Section | No. Of Ques | Time Limit |
| Polity | 15 | No Limit |
| Geography | 15 | No Limit |
| Economy | 15 | No Limit |
| History | 15 | No Limit |
| Science and Technology and Environment | 15 | No Limit |
| Current Affairs | 25 | No Limit |
IAS Scholarship Test: Reward
The candidates who will apply for this prestigious scholarship programme will receive the following reward:
Scholarships will be awarded based on their performance in BNST | IAS. Work hard!
Marking Scheme
Every correct answer gets +2 marks.

There is a penalty of -0.67 for each incorrect answer.

There is no penalty for unattempted questions.
ALSO, READ- Byjus BNAT Scholarship Test
System Requirements To Take BNST | IAS
BNST | IAS can be taken on any Laptop, Desktop, Mobile Phone, or Tablet. For the best user experience, we recommend an updated Chrome browser.
Kindly check your device, browser, and your internet connection to make sure you get a hassle-free testing experience.
Byjus IAS Scholarship Test: Registration Process
Follow the simple procedures outlined below if you want to register via the official website:
Applicants First, Visit the official Website BYJU'S

On your screen will appear Byju's front page.

You will now need to carefully read all of the instructions before clicking the "Register now" tab.

The phone number must then be verified with an OTP before submission.

You then need to enter your information and press the "submit" button.
Byjus IAS Scholarship Test: Login Steps
Applicants First, Visit the official Website BYJU'S

On your screen will appear Byju's front page.

You will now need to carefully read all of the instructions before clicking the "Login" tab.
Before hitting the login button on the login screen, enter your mobile number and password.

By using these methods, you may log into your profile easily.
ALSO, READ- Inspire scholarship cut off
Terms & Conditions Of Byju's IAS Scholarship Test
BYJU'S decision on Scholarship is final. The BNST | IAS is based on the Internal parameters of BYJU'S. 

The applicant and the applicant's parents agree that BYJU'S shall not be held responsible for any loss/damage, caused to the applicant or the applicant's parent, due to the usage or placing reliance on BNST | IAS or the BNST | IAS results for any decision being made by the applicant's parent or the applicant. 

Applicant and applicant's parent agree that BYJU'S may use the data submitted by the applicant for its business.
Points to remember for the Byjus IAS Scholarship Test:
Date and Time: Note down the exact date and time of the Byjus IAS Scholarship Test to ensure you don't miss it. Be punctual and arrive a few minutes early to avoid any last-minute rush.
Venue: Find out the location of the test venue and plan your travel accordingly. Make sure you have the complete address and directions to reach the venue without any hassle.

Admit Card: Carry a printout of your admit card to the test center. The admit card contains important details such as your name, roll number, and other instructions. Keep it safely and ensure it is not damaged.

Identification: Carry a valid photo identification document (such as Aadhaar card, PAN card, or passport) to establish your identity at the test center. Make sure the document is not expired and matches the information provided during the registration process.
Stationery: Check the guidelines provided by Byjus regarding the items allowed inside the examination hall. Generally, it is advisable to carry pens, pencils, erasers, sharpeners, and a ruler. Avoid using any electronic devices or prohibited items during the test.
Syllabus and Pattern: Familiarize yourself with the syllabus and test pattern for the Byjus IAS Scholarship Test. Understand the topics and subjects that will be covered in the test to prepare accordingly. Focus on areas that you find challenging and allocate time accordingly.
Time Management: The Byjus IAS Scholarship Test is a time-bound examination, so practice time management during your preparation. Solve previous years' question papers or take mock tests to get an idea of the time required for each section. Learn to prioritize and allocate time wisely during the actual test.
Exam Strategy: Develop an effective exam strategy based on your strengths and weaknesses. Identify the sections or subjects where you excel and attempt those first. This will boost your confidence and help you secure more marks.
Mock Tests: Take advantage of mock tests and online resources provided by Byjus to evaluate your preparation. Regularly attempt practice tests to gauge your progress, identify areas for improvement, and enhance your overall performance.
Stay Calm and Focused: On the day of the test, maintain a calm and composed mindset. Avoid unnecessary stress and distractions. Read the instructions carefully before starting the test and follow them diligently. Stay focused throughout the exam duration.
Time for Review: If time permits, reserve a few minutes at the end to review your answers. Check for any unanswered questions or mistakes. Ensure that you have marked the answers correctly in the provided answer sheet.
Result Declaration: Keep track of the announcement date for the Byjus IAS Scholarship Test results. Follow the official communication channels or website to stay updated. If you qualify for the scholarship, follow the instructions provided for further steps.
Remember, thorough preparation, dedication, and a positive mindset can greatly contribute to your success in the Byjus IAS Scholarship Test. Good luck!
Contact Details
Please send your queries to [email protected] or call on BNST | IAS Helpline 7829211117
Important Links
Hello friends I am an Engineering student. At one time I was looking for a scholarship. And right now I provide information about scholarships for all of India. By my website