Santoor Scholarship 2023 application form | Santoor Scholarship 2023-24 | Santoor Scholarship 2023 last date | Santoor Scholarship 2023 apply online |nSantoor Scholarship apply online
The Santoor scholarship was launched in 2016-17 by Wipro Organization. Only female students who come from economically backward sections of society will benefit from this scholarship. Students who have passed standards 10 and 12 from their local government school can apply for this prestigious scholarship. And they can apply for this scholarship until they complete their degree course. We have discussed all the important information about Chhep ourselves.
Stay connected with our website for information on various scholarships and job recruitment information. Apart from this, you must join our Telegram channel and you will get all kinds of updates there
About Santoor Scholarship 2023
The Wipro organization has specially established the Santoor Scholarship for the development and empowerment of female students in society. Many students are unable to continue their education due to various problems. Only female students from the states of Andhra Pradesh, Karnataka, Telangana, and Chhattisgarh of India can apply for Santoor Scholarship 2023. Students receive around 24,000 RUPEES per year from the scholarship. About 1900 students benefit from this scholarship annually. Students can apply through the official scholarship website. Some important correct documents should be attached to the application form when applying. And one should remember to complete the application process before the last date.
NOTE-So friends if you like reading the article then definitely share it with your friends so that the information about this scholarship reaches more and more people.
Object Of Santoor Scholarship
The main objective of the Santoor Scholarship is to develop the students and also to create a study environment among them. After completing the application process, the students will get a grant of 24 thousand rupees per annum. With which they can meet their college fees and academic expenses. Through this article, we will discuss all the information about the scholarship like eligibility criteria, benefits, selection process, and application process.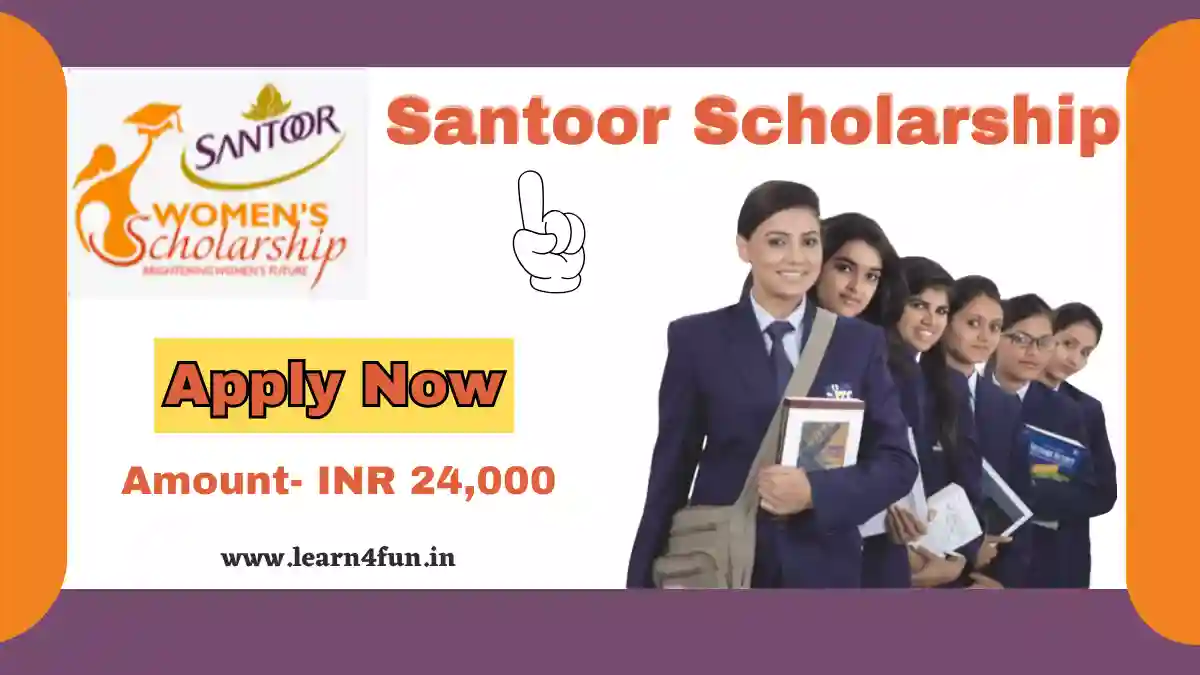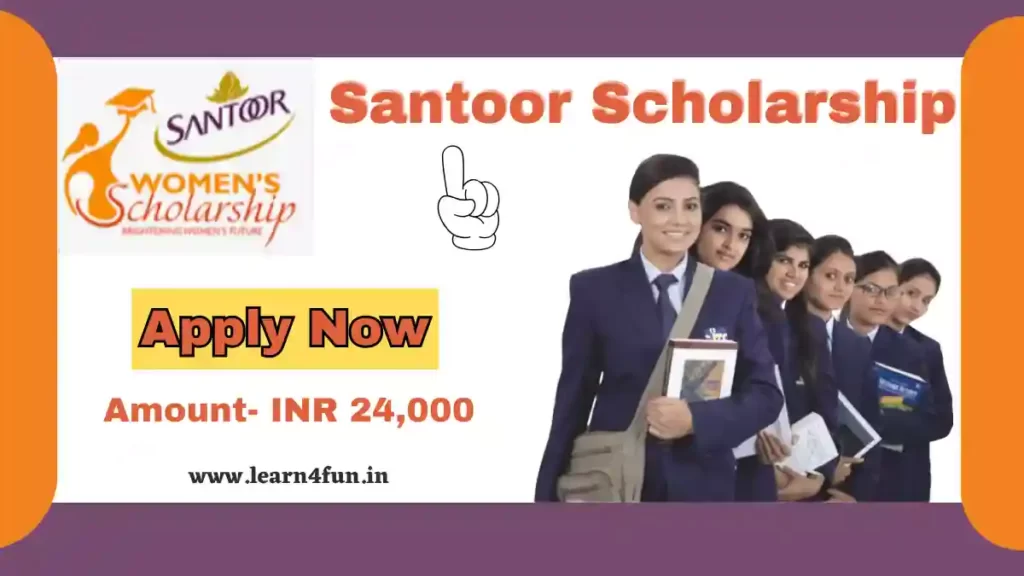 QUICK HIGHLIGHT
| | |
| --- | --- |
| Scholarship Name | Santoor Scholarship |
| Provide By | Wipro organization |
| Beneficiaries | Only female students from the states of Andhra Pradesh, Karnataka, Telangana, and Chhattisgarh of India can apply |
| Year | 2023-24 |
| Application Mode | Online/Offline |
| Payment Mode | DBT |
| Amount | INR 24,000 |
| Official Website | Click Here |
Santoor Scholarship 2023: Last Date
The last date to apply Santoor Scholarship is 30th November 2023
ALSO, READ-Vahani Scholarship
Santoor Scholarship: Eligibility Criteria
To apply, please follow the eligibility criteria below:
This scholarship is open only to underprivileged students from the states of Andhra Pradesh, Karnataka, Telangana, and Chhattisgarh.
Students must have passed class 10 from any government school.
In the academic year 2022 to 2023, students must have passed class twelve from a government school or college.
They must be enrolled as full-time graduates in the 2023-24 academic year.
This full-time graduate course must be at least three years in length.
Students showing a keen interest in pursuing their higher education in the fields of humanities, liberal arts, and sciences in addition to professional courses are strongly encouraged to apply.
Students from the aspirational (backward) districts will be prioritized too.
Santoor Scholarship: Benefits
Students will receive a grant of Rs. 24,000 per year from the scholarship. With which they will be able to cover their tuition fees and other academic expenses.
Selection Process
The Santoor program is available to students from the states of Andhra Pradesh, Karnataka, Telangana, and Chattisgarh only.
Wipro Cares reserves the sole right to offer the scholarship and also has the right to modify/reject/withdraw and/or discontinue the offer without assigning any reason. No other body/agency is authorized to make any offer on the Santoor Scholarship.
ALSO, READ-Kamgar Kalyan scholarship
Santoor Scholarship Application Online 2023
You must first visit the scholarship's official Santoor website by clicking on the link provided here.
The home page will appear on your screen.
This scholarship's details will be shown on your screen.
You must first select the login option from the menu bar.
You must register with your details.
On your screen, the registration form will appear.
Complete the registration form and upload all required documents.
You are now eligible to apply for the scholarship.
Download the Santoor Scholarship application form if you want to apply offline for the Santoor Scholarship.

Santoor Application Form English
Santoor Application Form Hindi
Important Points:-
Before applying for any scholarship program the applicant must keep these points in mind to avoid any kind of mishappening.
Before submitting an application for a scholarship, students must review the requirements.
To apply, candidates must have a valid email address.
To apply, candidates must have a valid mobile number.
When applying, students must include a recent photograph.
To be considered for the scholarship, candidates must upload valid documents.
Keep all your documents ready before applying for the scholarship.
Don't wait until the deadline to apply for scholarships.
Check the details carefully before the final submission of the application form.
ALSO, READ-SIRISH Scholarship
Contact Details
011-430-92248 (Ext: 121) (Monday to Friday – 10:00 AM to 6 PM)
Important Links
Hello friends I am an Engineering student. At one time I was looking for a scholarship. And right now I provide information about scholarships for all of India. By my website